Bitcoin Soars Beyond $23k as Whales Accumulate $1.46B
Flagship digital asset Bitcoin surged past $23,000 for the first time since August 2022, continuing its bullish start to 2023. Coinglass data showed that BTC's rally liquidated $112.2 million in short positions against it over the last 24 hours.
According to CoinMarketCap, BTC soared roughly 9% in the last 24 hours to as high as $23,000 from $20,919. BTC's price performance continues the uptrend the asset has seen this year — positive sentiments have returned to the market, and traders have turned bullish again.
Intotheblock data also suggested that the correlation between crypto and stocks is beginning to align again. The data shows the correlation coefficient between the Nasdaq and Bitcoin at 0.86.
Bitcoin's Bullish Start to 2023
Bitcoin is one of the best-performing assets in 2023. Since the beginning of the year, BTC has risen by more than 30% to its current level despite the negative news hitting the market.
Crypto lender Genesis filed for bankruptcy earlier this week, while crypto firms like Coinbase and Kraken closed their businesses in some countries. Apart from that, some crypto firms like Huobi have continued to lay off workers because of the market condition.
Meanwhile, Kaiko's Director of Research, Clara Medalie, pointed out that BTC and Ethereum have outperformed all traditional assets by a large margin this year. She added that the asset trade volume is at its highest since FTX collapsed in November 2022.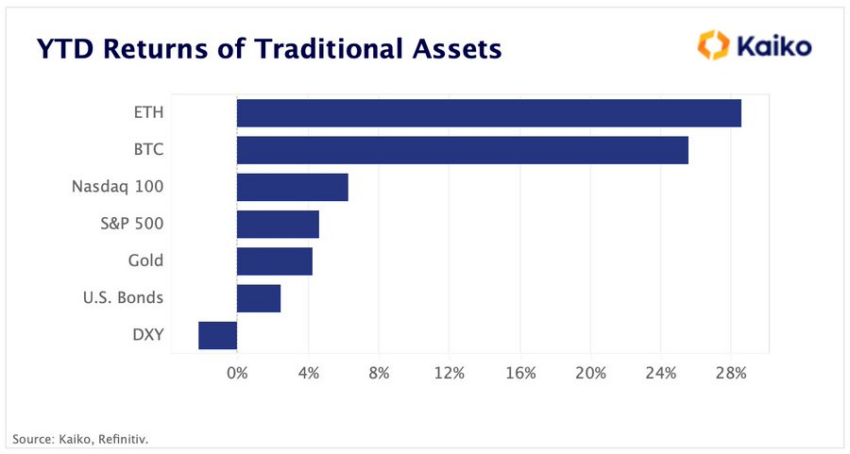 Blockchain analytical firm Santiment said BTC's rally had been pushed by whale accumulation. Per the firm, whales holding between 1,000 to 10,000 units of the asset have collectively accumulated 64,638 ($1.46 billion) BTC in the past 15 days.
BTC Miners Find Relief
Bitcoin's price rally is giving miners much-needed relief following a dastardly 2022 that greatly affected their profit margins.
According to data from Hashrate Index, BTC's hashprice has jumped by more than 20% since the beginning of 2023. As of Jan. 1, the hashprice was $0.059 per Terra Hash per day (TH/d). However, it climbed to $0.077 TH/d by Jan. 21, indicating that it profited from BTC's upward price movement.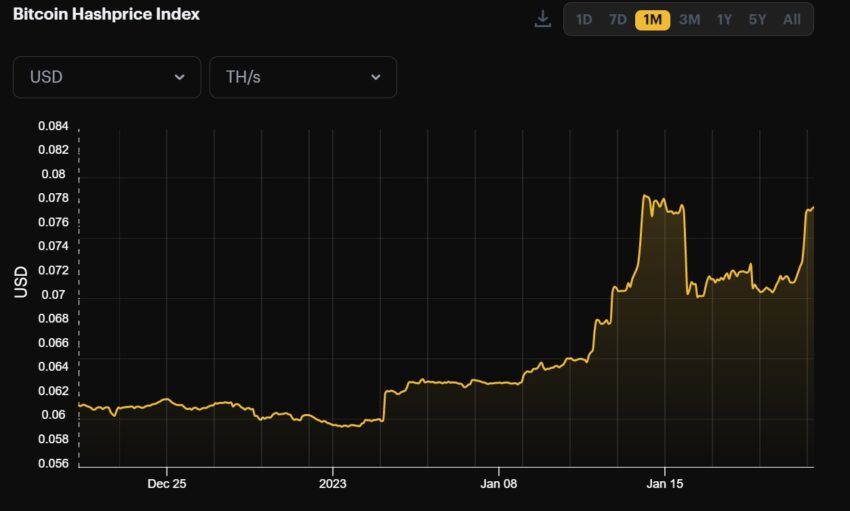 Bitcoin's hashrate and mining difficulty have reached new highs during this period. This also indicates that several miners are plugging in their machines and looking to profit from the asset's upswing. For context, a solo miner with only 10TH won a block reward worth 6.25 BTC (over $130,000) on Jan. 20.
Besides that, the stocks of several public Bitcoin miners have turned positive since the start of 2023, showing a renewed thirst for BTC-exposed investment assets.
Disclaimer
BeInCrypto has reached out to company or individual involved in the story to get an official statement about the recent developments, but it has yet to hear back.