AGIX price defies gravity as Singularity demand soars
AGIX price has defied gravity in the past few days. SingularityNET's token has soared in the past six straight days and is trading at $0.10, the highest point since October 14. The coin has jumped by more than 204% from the lowest level in 2022. It has seen its market cap surge to more than $115 million.
What is SingularityNET?
SingularityNET is a blockchain project that seeks to incorporate concepts on artificial general intelligence (AGI) that is not dependent on any central entity. The platform is built on top of Cardano's blockchain. Some of its top partners are Ocean Protocol, Cisco, and Binance Connect.
Singularity's ecosystem has been growing. It includes projects in industries like DeFi, gaming, arts, and enterprise AI among others. Some of the top apps in its ecosystem are SingularityDAO, Nunet, Rejuve, Sophia Verse, Awakening Health, and Jam Galaxy among others.
SingularityDAO is a decentralised portfolio management protocol designed to enable anyone to safely and easy manage their crypto assets. Nunet, on the other hand, builds infrastructure providing distributed computing and storage for decentralised networks.
Some of the most important achievements made by SingularityNet in 2022 were its AI model training. It also initiated design for Cardano platform marketplace. 
#SingularityNET's decentralized AI marketplace saw strong growth in 2022, and with projects funded by @DeepFunding (Round 2 = open) actively developing #AI agents we'll see a massive expansion in 2023! Read our Year End review here:https://t.co/ZWJEdIDS4r#BuildingOnCardano #AGI pic.twitter.com/c8wb6s6gUt

— SingularityNET (@Singularity_NET) January 8, 2023
It is still unclear why the AGIX price has jumped sharply in the past few days. A likely reason for the rally is the strong performance of Cardano, which has soared to the highest point in months. Another reason is that investors believe that the platform's ecosystem will continue growing this year. 
And like other cryptocurrencies, AGIX price has risen because of macro factors. Data published last Friday showed that wage inflation has started cooling. With the broad inflation falling, investors believe that the Fed will start turning a bit dovish.
AGIX price forecast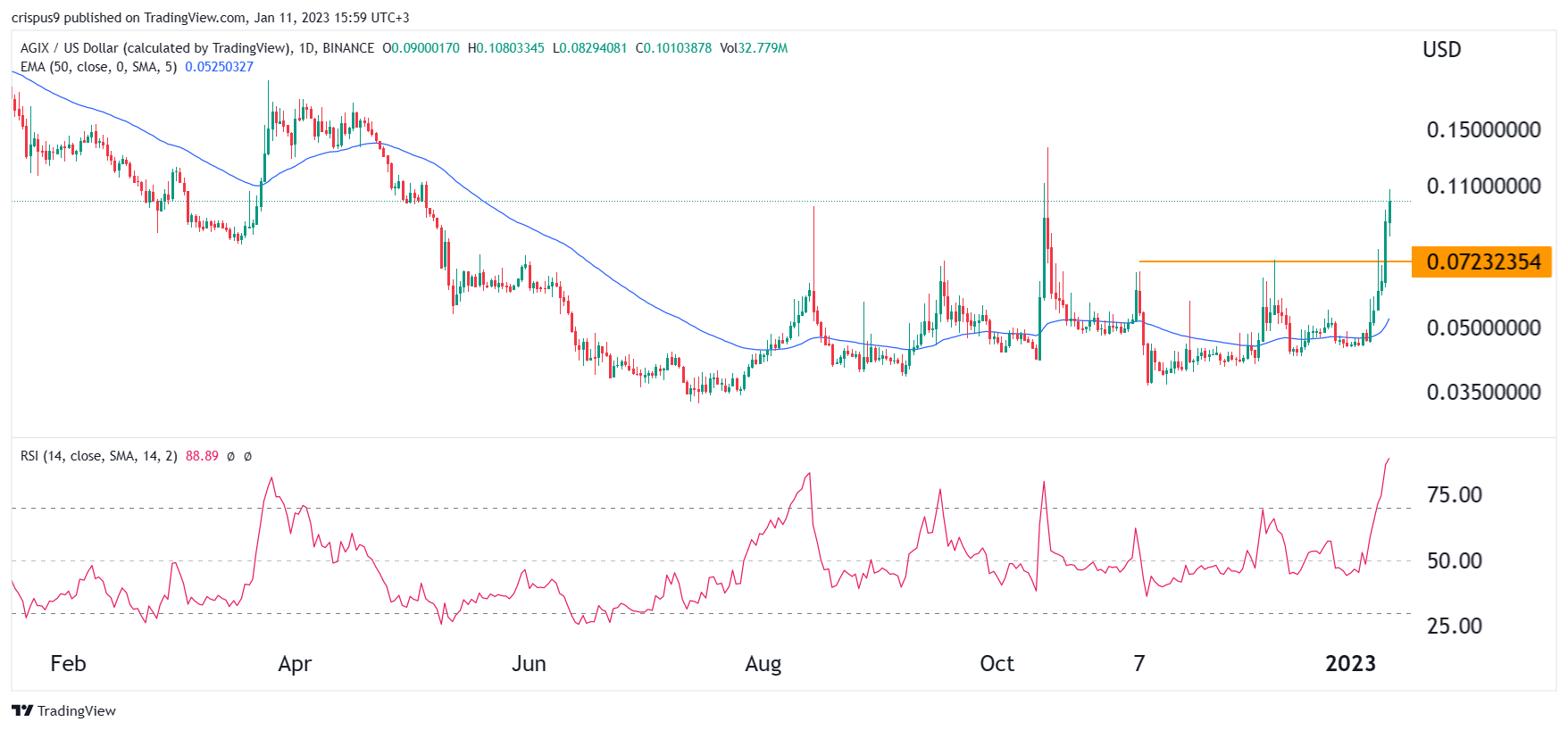 AGIX/USD chart by TradingView
The daily chart shows that the SingularityNET price has done well in the past few days. It has risen in the past six straight days and moved to the highest point since October. As it rose, the token jumped above the important resistance level at $0.072, the highest point on December 12. It has rallied above the 25-day and 50-day moving averages while the Relative Strength Index (RSI) has soared above the overbought level. 
Therefore, I suspect that this rebound will come to an end soon. If this happens, the next key support level to watch will be at $0.072. 
How to buy SingularityNET